Events
This is the page where you will find information about our public events, tournaments and open days.
Hockey Fest 2017-
Come join in the fun at our Hockey Fest events!
Interested in giving hockey a try for the first time or regaining the hockey skills you had in your school days? Come along and give it a go!
Click here to download the Back to Hockey information sheet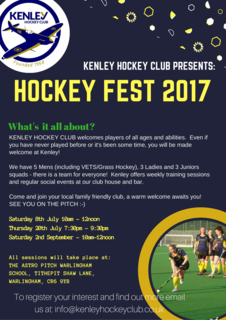 Kenley 7s tournament is 7th October at Club house, here is the info sheet:
Colts Summer Session at Warlingham School from 10.30am to 12.30pm, get in touch and come along.